Columbia, SC, June 8, 2016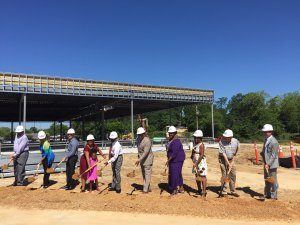 A former car dealership off West Beltline Boulevard near Piggly Wiggly supermarket is getting new use as it becomes the new water distribution and wastewater management facility for the city of Columbia.
The $15 million project includes the renovation of existing buildings, rain gardens, a green roof and LED lighting. (Photos by Kelly Petty)
"This is going to be an opportunity for adaptive reuse; this is going to be an opportunity for job creation in this community," said Columbia Mayor Steve Benjamin. "It's a strategic placement of necessary public investment."
The building at 4011 West Beltline Blvd. was home to the former Newsome Chevrolet dealership. Two of the existing buildings on the property are being renovated. And construction also is underway on a new 15,300-square-foot administrative building.
More than 300 employees from the city's Utilities and Engineering Department will work at the new facility, which Benjamin said would provide a boost to the surrounding businesses.
The mayor said the city is seeking Leadership in Energy and Environmental Design (LEED) green building silver certification by adding sustainable elements to the design.
Six rain gardens around the property will capture and filter stormwater to reduce runoff. The administration building will have a green roof to reflect sunlight and absorb less heat. The proposed landscape design is intended to lower irrigation by as much as half of the standard usage.
Community leaders and elected officials ceremoniously break ground on the West Beltline Boulevard facilities.
Low-flow fixtures will reduce indoor water use by 30 percent, while bicycle storage and changing rooms with showers will encourage employees to use alternative modes of transportation like cycling.
Plans also call for the use of LED lighting and sensors on light fixtures to cut down on energy usage in all facilities by more than 30 percent.
The facility also will include a 36,000-square-foot warehouse, an 11,000-square-foot air-conditioned storage space, a guardhouse, a covered fleet storage space, space to hold materials and equipment, an outdoor service bay and bulk material storage bins.
City officials expect the $15 million revitalization to be the city's first LEED project.
"We're very excited about this project. For years, our water and wastewater maintenance staff have been packed very tightly in our existing facility. By moving into this new facility, it will give us an opportunity to expand and improve our operations," said Director of Utilities and Engineering Joey Jaco.
Residents from nearby Belvedere and Booker-Washington Heights neighborhoods say they think the new city government building will be a catalyst for more business development along the West Beltline corridor and improve living conditions for homeowners.
"This building was sitting for almost 20 years and it will open doors for restaurants to come in and other businesses to come in and it will stop some of the crime," said Diane Wiley, president of the Belvedere Neighborhood Association. "When you build up your neighborhood, and you make it look good, the crime will run out."
Story By Kelly Petty on June 9, 2016 – click here for online story.