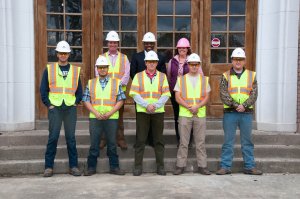 Moncks Corner, March 28, 2017
The Berkeley County School District (BCSD) and Contract Construction will facilitate a field study trip for 25 Timberland High School Building Construction students on Friday, March 31. A continuation of BCSD's new "Building Berkeley" initiative, students and lead contractors will visit the Berkeley Education Center renovation site, the future Foxbank Elementary School site and the newly constructed Nexton Elementary School.
"This field study will add relevancy to classroom standards, link job requirements to skills learned, and provide students with an opportunity to explore hands-on state of the art technology used in the Building Construction industry," said BCSD Director of Career and Technical Education Tana Lee. "This is a wonderful opportunity for our students to learn from seasoned construction professionals, and we appreciate Contract Construction's partnership and leadership in 'Building Berkeley'."
Greg Hughes, President of Contract Construction, added, "The shared goal for BCSD and Contract Construction is to inspire young men and women to see the construction field as more than a job. Construction is an extremely rewarding and essential profession, especially when considering the continued growth of Berkeley County. We are excited to have these students join us on our job sites. I am sure we will both learn a lot from each other."
This field study comes on the heels of BCSD's launch of "Building Berkeley" on March 14 at the Berkeley Education Center renovation site. In partnership with Contract Construction, BCSD Career and Technical Education Building Construction students at Berkeley and Timberland High Schools will receive on-the-job training and apprenticeships made possible through Carolinas Association of General Contractor's "Build Your Future" initiative.
Media are invited and encouraged to attend. The bus will depart from Timberland High School at 8:55 a.m. on Friday. If media are interested in participating in the field study and would like to ride along with the students, please contact Katie Orvin Tanner at 843-899-8611.