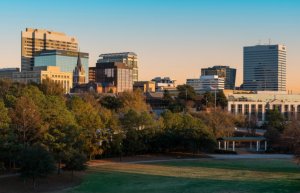 Columbia, SC, May 25, 2107
Richland County Public Library is one of the recipients of the 2017  National Medal for Museum and Library Service award. Each year, the Institute of Museum and Library Service presents select museums and libraries with the nation's highest honor. Contract Construction was retained by Richland County Public Library to renovate Richland County's main library located in Columbia, SC.  The extensive interior renovations began in October 2015 with completion slated for the third quarter of 2017.
The National Medal for Museum and Library Service honors outstanding institutions that make significant and exceptional contributions to their communities. Selected institutions demonstrate extraordinary and innovative approaches to public service, exceeding the expected levels of community outreach. The winners are honored at a National Medal award ceremony held in Washington, D.C.
Other 2017 National Medal Winners include:
Alaska Department of Education and Early Development (Alaska State Museums) (Juneau, Alaska)
Aspen Art Museum (Aspen, Colorado)
Cedar Rapids Public Library (Cedar Rapids, Iowa)
Illinois Holocaust Museum & Education Center (Skokie, Illinois)
Leigh Yawkey Woodson Art Museum (Wausau, Wisconsin)
Long Beach Public Library (Long Beach, California)
Peralta Hacienda Historical Park (Oakland, California)
University of Minnesota Libraries (Minneapolis, Minnesota)
Waterville Public Library (Waterville, Maine)
For more information or to find out how to nominate your museum or library, click here.