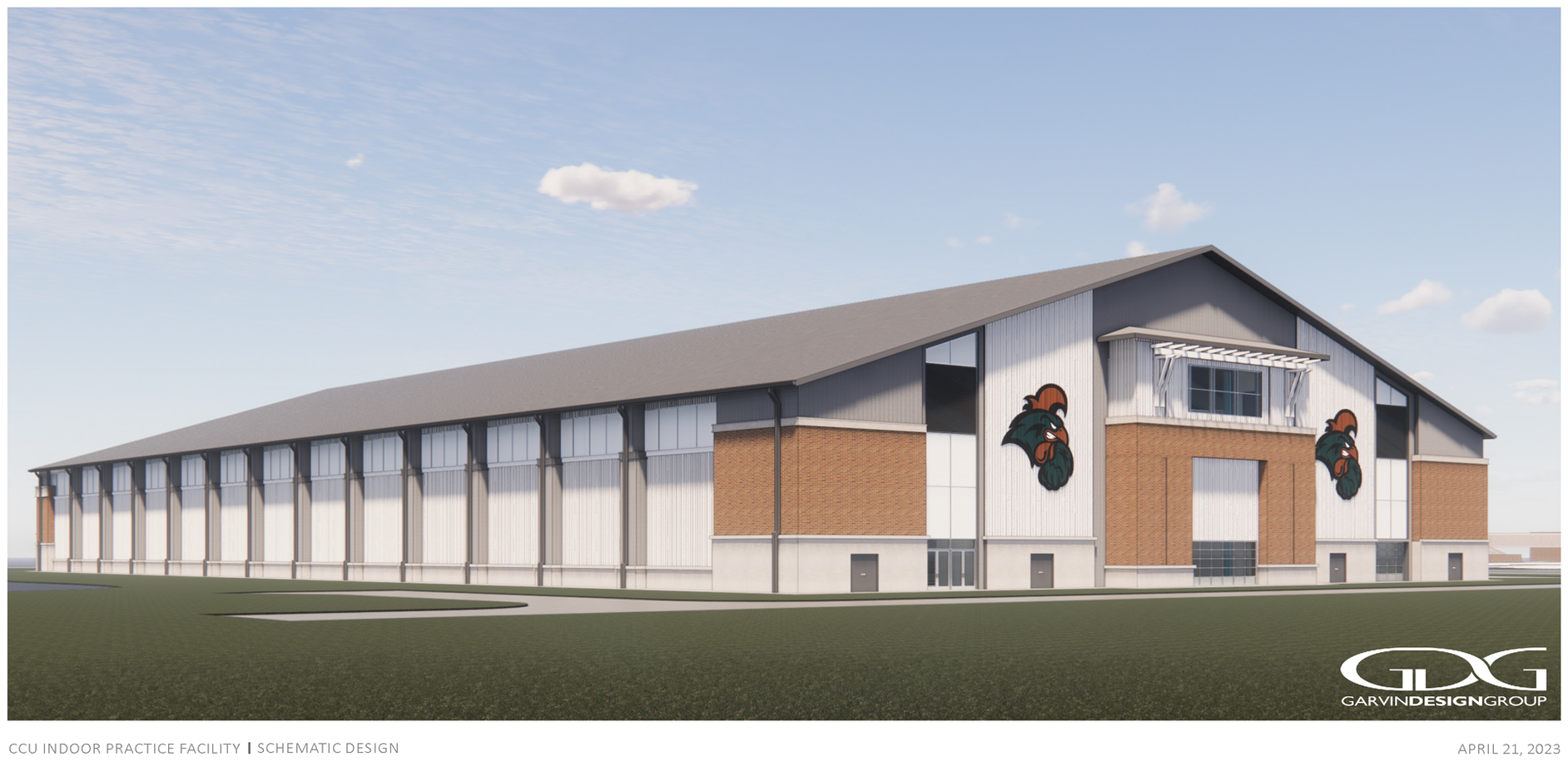 Contract Construction is excited to team up with Coastal Carolina University as they embark on their first ever Construction Manager at Risk project.  This past week CCU secured all required state approvals to begin construction on a new state-of-the-art indoor practice facility.  In addition to being the first CM at-Risk project for the University, it is also the largest donor-funded project in school history.
"The Construction Manager at Risk delivery method gives Coastal Carolina University several benefits, including a predictable budget with a Guaranteed Maximum Price, increased project speed, and the ability to hire based on construction managers' qualifications not just price," said David Frost, senior vice president for finance and administration/CFO.
Contract Construction previously worked with CCU on their Science Building Annex II, completed in 2016, and expansions to Brooks Stadium, completed in 2019.
Located just south of Brooks Stadium and designed by Garvin Design Group, the new 93,000 sf Indoor Practice Facility will serve many purposes for the Chanticleers, including intercollegiate athletics, graduation ceremony staging, club and intramural sports, and other campus and community events. The metal structure will accommodate all aspects of practice and includes a regulation-size football field featuring artificial teal turf. The facility also will include two filming platforms, restrooms, storage rooms, and an athletic training space that will be accessible from the interior and exterior practice areas.
Sherry Johnson, a member of CCU's board of trustees and chair of its facilities and planning committee, said: "This state-of-the-art facility stands not only as a testament to our commitment to excellence as a University but also as a catalyst for transformation within Chanticleer Athletics. The facility presents numerous opportunities for our entire student body. We are excited about the impact it will have in propelling our athletic programs toward unparalleled success."
A groundbreaking ceremony for the facility is scheduled for Sept. 7, two days before CCU's 2023 football home opener in Brooks Stadium.