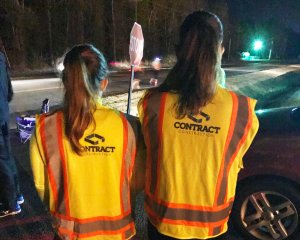 March 25, 2107, Patriots Point, SC
Members of the Columbia Fireflies @columbiafireflies formulated a team of runners to participate in the Palmetto200 Relay Race March 24-25, 2107. The race originated in Columbia, SC, led runners on a scenic route through the Palmetto state, and finished in Charleston (Patriots Point) midday on 3-25-17.  Palmetto200's "Rules of the Road" mandate that runners wear a reflective vest with blinking lights and a headlamp between the hours of 7:00pm and 7:30am.  Contract Construction was proud to provide the Firefly team with safety vests for the event.
"Our team took turns running in the Contract Construction safety vests on Friday night / Saturday morning," said Abby Naas, Vice President – Marketing & Public Relations for the Columbia Fireflies Baseball franchise. "We used slap bracelets to transition from one racer to the next as we made our way through South Carolina. Team Firefly, comprised of 12 participants, raised funds for the Leukemia & Lymphoma Society. Thank you, Contract Construction for the vests. It was a great help!"
For more information about The Palmetto200 Relay events, click here.
Visit the Columbia Fireflies @columbiafireflies or click here to learn more about game times and events.