Moncks Corner, March 31, 2017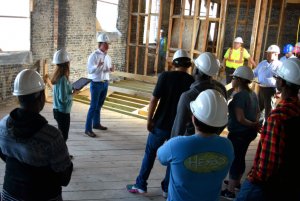 When Contract Construction President Greg Hughes was 14 years old, he got a summer job working for Martin Engineering in White Rock, doing various tasks on construction sites.
"My mother would drive me to work and drop me off and come pick me up because I couldn't drive," he said.
Hughes continued working for the company each summer through high school and while attending the University of South Carolina, where he earned a bachelor's degree in accounting. While considering an accounting job offer, Hughes met with Mac Martin, who was the president of Martin Engineering.
"He committed to continue to train me, so I decided to take the construction route, and he put me on the jobsites," Hughes said. "Then at night, I would go in the office, and he would teach me to estimate."
Hughes said he still uses some of the math skills from his accounting classes, but he's based much of his construction career on the mentoring and training from Martin.
Hughes wants his Richland County-based company to train high school students in a similar way so that he'll have a skilled workforce ready to fill empty and new positions over the next decade.
He said his subcontractors already have problems finding workers, which slows his projects, and he expects the struggle to intensify.
Employment of construction laborers and helpers is projected to grow 13% from 2014 to 2024, which is faster than the 7% average of all occupations, according to the U.S. Bureau of Labor Statistics.
To help train a new generation of construction workers, Contract Construction has partnered with Berkeley County School District to offer on-the-job training to high school students.
Twenty-five juniors and seniors from Timberland High School in St. Stephen recently went on a field trip to three of Contract Construction's jobsites in the Lowcountry, and Hughes said he hopes some of them will be his future employees.
Hughes guided the students through the old Berkeley High School building being renovated to become the Berkeley Education Center, pointing out various changes that will be made; he walked them along the empty lot in Moncks Corner where the Foxbank Elementary School will be built; and he gave them a tour of the newly constructed Nexton Elementary School.
The students are taking a building construction class at school, learning the basics of electricity, plumbing, framing, exterior finishing, carpentry and construction safety, instructor Ty Darby said.
Contract Construction will choose about a dozen students from Timberland High to become apprentices. They'll earn $10 an hour doing masonry and carpentry work and installing roof sheathing, among other tasks, at the Foxbank Elementary site.
"They don't know what they want to do, so we try to give them different experiences so they may find out what they want to do," Hughes said.
Christopher Nesbitt, a 12th-grader at Timberland, has been interested in construction for the past couple of years because of his stepfather's career as an ironworker.
"I don't know a lot, but I'd like to go in and them teach me how to master it," he said.
The company already recruited a handful of students from Berkeley High, including senior Zach Simmons, in early March to work at the Berkeley Education Center site. Simmons works at the site five days a week, in the mornings and afternoons, and goes to class in between.
"So far, we've been up on the roof, repairing it, putting floor joints in, building walls and pretty much just repairing the whole building," he said.
Simmons plans to work as an apprentice through the end of July, when he leaves for basic training for the National Guard. When he's finished, he said he wants to go to Midlands Technical College to earn an associate degree in building construction engineering and has hopes of getting a contractor license.
"It's just a really good program to get you going, to get your foot in the door," he said about the apprenticeship program.
Contract Construction currently has enough workers to complete its contracts, but Hughes said most superintendents and project managers are in their 50s. He wants to have a workforce ready to replace them when they retire.
"You've got to deal with the reality of looking ahead 10 years because it's going to take 10 to 15 years to train a kid to fill a position of superintendent to the level that we have now," he said. "Our superintendents handle anywhere from $20 million to $50 million projects, and that's hard to find. So it's going to take 10 to 15 years to train up a kid under these guys that I have now so they can pass along their talents to them."
Workforce development a top priority
Recruiting and retaining workers is the No. 1 issue facing the construction industry, according to Bill Stricker, vice president of operations and workforce development at the Carolinas chapter of The Associated General Contractors of America. The local chapter of the trade organization represents contractors and construction-related firms in North and South Carolina.
When the recession hit in 2008, construction ground to a halt, and many companies laid off their employees. Those former construction workers moved on to other industries and didn't return to construction when the recession ended, leaving the industry desperate for help, he said.
The industry also has an image problem, Stricker said. It's not appealing to students who are being encouraged to go to college and work in an office or manufacturing facility.
"People certainly have a view of the construction industry and not every case is it positive. But the industry as a whole is much different, obviously, than it was 20, 25, 30 years ago," he said. "Our industry today is very much high-tech. It requires people with skills of particularly math, science and engineering skills, and it's not all labor."
Contract Construction President Greg Hughes said his company is trying to appeal to students by using drones to look over a site and tablets to show them construction designs, renderings and drawings, allowing them to "walk" through a construction site electronically before it's even built. Even with the technology, he said it's still difficult to find people who are willing to work outdoors.
"When you can work inside an air-conditioned factory, like Boeing or BMW or Michelin, you're going to choose that every day over working outside in the mud, in the sleet, in the rain, in the cold and the heat," Hughes said. "There's just few personalities that can handle the elements, because it is a tough job. You're outside every day, all day."
Certain construction positions are more difficult to recruit for than others, Stricker said, such as welders, pipe fitters and equipment operators — specifically crane operators, because they take a lot of experience to master. But those positions generally pay higher wages than South Carolina's annual average of $41,530.
Welders, for instance, earn an average of $42,060 in South Carolina; pipe fitters earn an average of $43,060; and crane operators bring in an average of $54,870, according to the U.S. Bureau of Labor Statistics.
Click here for full story.
Author: Ashley Heffernan at 843-849-3144; @AshleyBHeff; aheffernan@scbiznews.com
Charleston Regional Business Journal